WHAT IS THE EXTRA COST FOR YOU TO MEET ME AT MY HOME?
As long as your home or whatever location you are in is within a reasonable driving distance from my office, there is no extra charge aside from my hourly rate.
IF MY SPOUSE AND I DIE WITHOUT A WILL, WHAT WILL HAPPEN TO MY MINOR CHILDREN?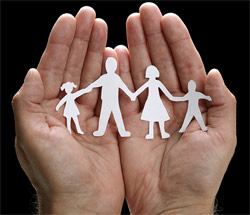 If you have children that are under the age of 18 or are disabled, you should make plans as to who will take care of them when you are gone. If you do not name a legal guardian in your will, anyone can petition the court upon your death to become the child's legal guardian. Most people think that the grandparents, godparents or aunts/uncles will automatically be the child's legal guardian; this is not so, anyone can petition the court and it will be up to a court to decide who becomes the legal guardian.
CAN'T I HANDLE THE PROBATE PROCESS WITHOUT A LAWYER?
There is no legal obligation to hire an attorney to handle a decedent's legal affairs, however, it is not an easy process. There are many specific things that must be done in a timely manner; there are also things that can be done to obtain discounts on taxes paid. Unless you have the experience and training to handle these matters, it can be quite a difficult and taxing process without the assistance of an attorney.
WHAT ABOUT THE "DO IT YOURSELF" ESTATE PLANNING BOOKS?
These kits, forms and books are created in a generic sense and are not made strictly for Pennsylvania law; even if they are geared toward Pennsylvania, the estate laws are constantly changing and these books are not updated with the changes. If a legal document is not drafted properly it could result in your estate being distributed in a manner contrary to your wishes. Your family may also incur unnecessary legal costs should the document be challenged in Court.
DO YOU HANDLE ANY OTHER LEGAL MATTERS?
Yes, while my practice is primarily focused on estate and elder law I can also assist you in many other legal matters such as the formation of a business, contracts and consumer issues. If you have an issue that I normally do not handle I will be glad to refer you to a colleague of mine that handles such matters.
DO YOU HANDLE ADOPTION?
I just handled my very first adoption case and it was the most satisfying, rewarding and happy experience in my 25 years of practicing law! I was thrilled to be able to help two fantastic people who I know will be terrific parents to their beautiful child. Something tells me I will be adding adoptions to my practice.
---
Elder Law
From Wikipedia, the free encyclopedia
The three major categories that make up elder law are:  
Estate planning and administration, including tax questions; 

Medicaid, disability and other long-term care issues;

Guardianship, conservatorship and commitment matters, including fiduciary administration.  
Other issues found under the umbrella of elder law include such areas as estate planning; wills; trusts; guardianships; protection against elder abuse, neglect, and fraud; end-of-life planning; all levels of disability and medical care; retirement planning; Social Security benefits; Medicare and Medicaid coverage; Medicaid planning (United States); consumer protection; nursing homes and in-home care; powers of attorney; physicians' or medical care directives, declarations and powers of attorney; landlord/tenant needs; real estate and mortgage assistance; various levels of advice, counseling and advocacy of rights; tax issues; and discrimination.
Wills and Probate
(probate law)
From Wikipedia, the free encyclopedia
In common-law jurisdictions, administration of an estate on death arises if the deceased is legally intestate, meaning they did not leave a will, or some assets are not disposed of by their will.
Where a person dies leaving a will appointing an executor, and that executor validly disposes of the property of the deceased within England and Wales, then the estate will go to probate. However, if no will is left, or the will is invalid or incomplete in some way, then administrators must be appointed. They perform a similar role to the executor of a will but, where there are no instructions in a will, the administrators must distribute the estate of the deceased according to the rules laid down by statute and the common trust.
Certain property falls outside the estate for administration purposes, the most common example probably being houses jointly owned that pass by survivorship on the first death of a couple into the sole name of the survivor. Other examples include discretionary death benefits from pension funds, accounts with certain financial institutions subject to a nomination and the proceeds of life insurance policies which have been written into trust. Trust property will also frequently fall outside of the estate but this will depend on the terms of the trust.
An administrator (sometimes known as the administratrix, if female) acts as the personal representative of the deceased in relation to land and other property in the UK. Consequently, when the estate under administration consists wholly or mainly of land, the court will grant administration to the heir to the exclusion of the next of kin. In the absence of any heir or next of kin, the Crown has the right to property (other than land) as bona vacantia, and to the land by virtue of the historic land rights of the Crown (and the Duchy of Cornwall and Duchy of Lancashire in their respective areas). If a creditor claims and obtains a Grant of Administration, the court compels him or her to enter into a bond with two sureties that he or she will not prefer his or her own debt to those of other creditors.
Will and Testament
From Wikipedia, the free encyclopedia
A will or testament is a legal declaration by which a person, the testator, names one or more persons to manage his or her estate and provides for the distribution of his property at death. For the devolution of property not disposed of by will, see inheritance and intestacy.
In the strictest sense, a "will" has historically been limited to real property while "testament" applies only to dispositions of personal property (thus giving rise to the popular title of the document as "Last Will and Testament"), though this distinction is seldom observed today. A will may also create a testamentary trust that is effective only after the death of the testator.
ELDER LAW, ESTATE PLANNING, AND ESTATE ADMINISTRATION
Elders have particular needs for document preparation, Medicaid planning, and assets protection strategies. Attorney Michael J. Bendick has a history of success achieving the results that the client is seeking along with seeking a quick, cost-effective, and comprehensive settlement and resolution of your case.